Broome County, New York Postal History
Center Lisle: December, 1905 - December 15, 1922
The Center Lisle Post Office was established in Broome County in December, 1905 from the Centerlisle Post
Office.  The first postmaster of Center Lisle was Milton C. Allen.  On December 15, 1922, the Center Lisle
Post Office ceased to exist and began receiving mail service from the Lisle Post Office. 

Center Lisle - 1907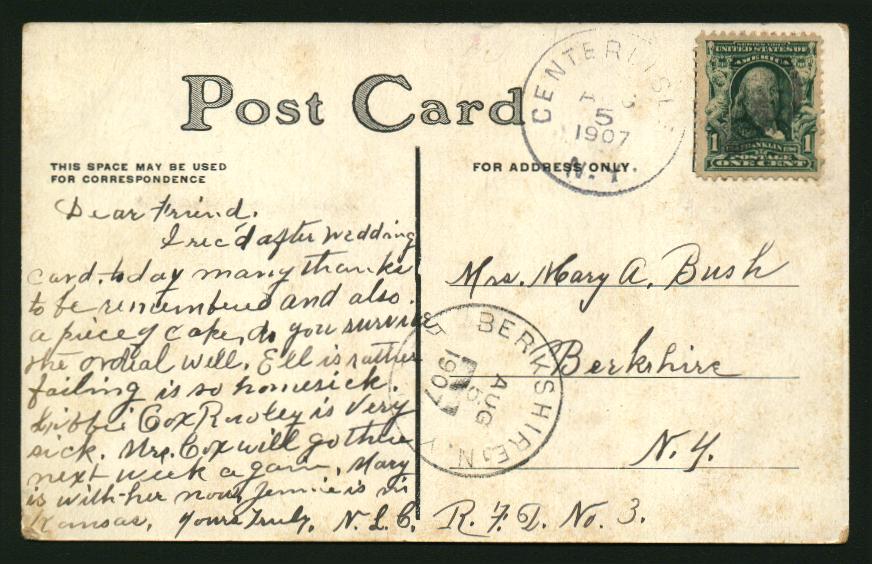 CENTERLISLE/AUG/5/1907/N.Y. CDS 28mm Black on picture post card.
                            Franked with 1 cent blue green (#300) with cork killer.
                            Old spelling of CENTERLISLE still used nearly 2 years after change in name
                            BERKSHIRE, N.Y./AUG/6/1907/REC'D CDS on face.

Center Lisle - 1916

CENTER LISLE/NOV/29/1916/N.Y. CDS 33mm Black on post card.  Black 4-Bar killer cancels
                              1 cent green (#424).
               


Home,   Next Page,   Previous Page,   Index Page,