Broome County, New York Postal History
Centerlisle: December, 1895 - December, 1905
The Centerlisle Post Office was established in Broome County in December, 1895 from the Centre Lisle Post
Office.  The first postmaster of Centerlisle was Herman H. Howland.  In December, 1905, the Centerlisle
Post Office became Center Lisle. 

Centerlisle - 1903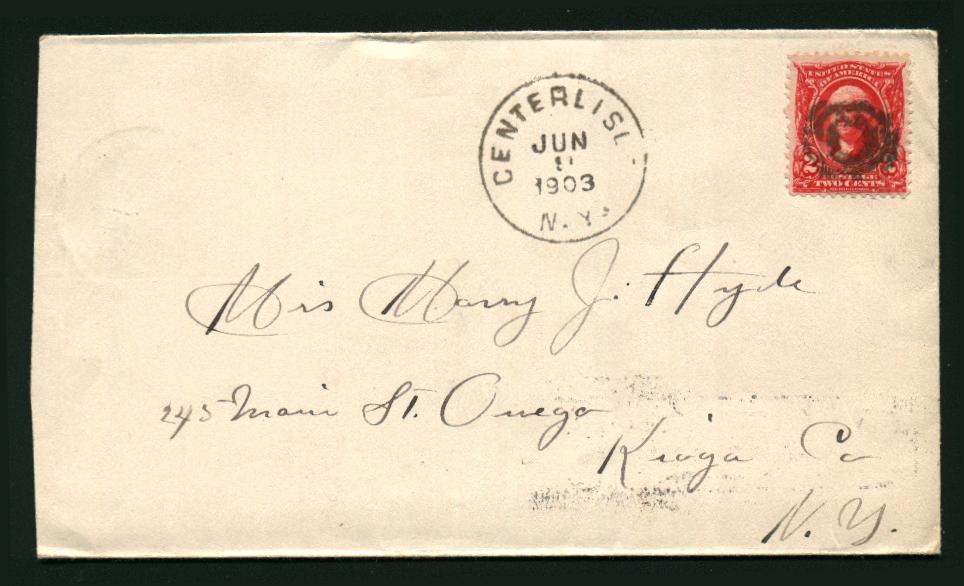 CENTERLISLE/JUN/9/1903/N.Y. CDS 28mm Black.
                            Franked with 2 cent carmine (#301) with concentric circle killer.
                            29mm CDS LISLE, N.Y./4PM/9/JUN/1903/REC'D and 
                            23mm CDS OWEGO, N.Y./JUN 10/7:30 A/1903 with 30 x 15 mm RECEIVED 
                            between 2 pair horizontal lines with 7 vert bars to right on rear.


Home,   Next Page,   Previous Page,   Index Page,