Broome County, New York Postal History
West Chenango: December 22, 1870 - August 15, 1903
The West Chenango Post Office was established on December 22 1870. The first postmaster of West Chenango
was Martin Hall.  The West Chenango Post Office ceased operation on August 15, 1903 when service began
to be provided from the Binghamton Post Office.

West Chenango - 1894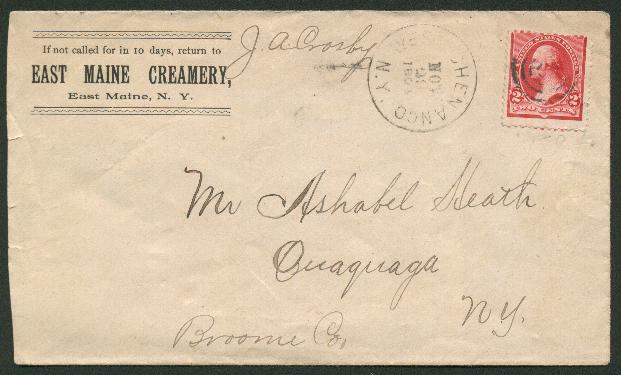 WEST CHENANGO/NOV/29/1894/N.Y. Black 27mm CDS with black target killer on 2 cent carmine (# 220).
                               Black 24mm CDS BINGHAMTON, N.Y./NOV29/2 PM/94 with numerical (1) duplex and
                               Black 27mm CDS OUAQUAGA/NOV/30/1894/N.Y. on back of envelope.


Home,   Next Page,   Previous Page,   Index Page,