Broome County, New York Postal History
Tracy Creek: May 9, 1856 - December, 1895
The Tracy Creek Post Office was established on May 9, 1856.  The first postmaster of Tracy Creek 
was Lucius Barnum. In December, 1895, the spelling was officially changed to Tracycreek.


The Postmasters of Tracy Creek

Tracy Creek - 1882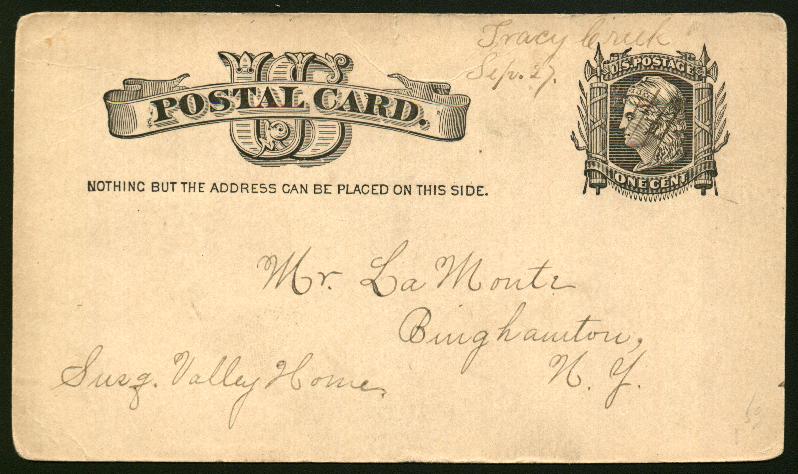 Tracy Creek/Sep. 27  Black manuscript town and date.  Black pen cancel on 1 cent
                     black postal card (#UX7).  Message dated "Sept 26th '82". 

| | |
| --- | --- |
| Tracy Creek - 1883? | Detail of backstamp |

Tracy Creek Oct 5  Black manuscript town and date.  Appears that receiving Post Office had wrong month in dial
                   which reads "ITHACA, N.Y./DEC/7/8AM/REC'D.  Letter datelined "Vestal Friday" and begins
                   "Dear Aunt, I write in haste".  Assuming it was written and posted the same day (Friday)
                   Oct 5th occurred on a Friday in 1883 and not again until 1888.  Stamp issued on Oct 1, 1883.


Home,   Next Page,   Previous Page,   Index Page,