Broome County, New York Postal History
Chenango Forks: December, 1896 - Present
The Chenango Forks Post Office was reestablished in Broome County in December, 1896.  The name
was changed from Chenangoforks.  The first postmaster of Chenango Forks was Barton P. Harper.
The Chenango Forks Post Office exists today with a Zip Code of 13746. 

Chenango Forks- 1902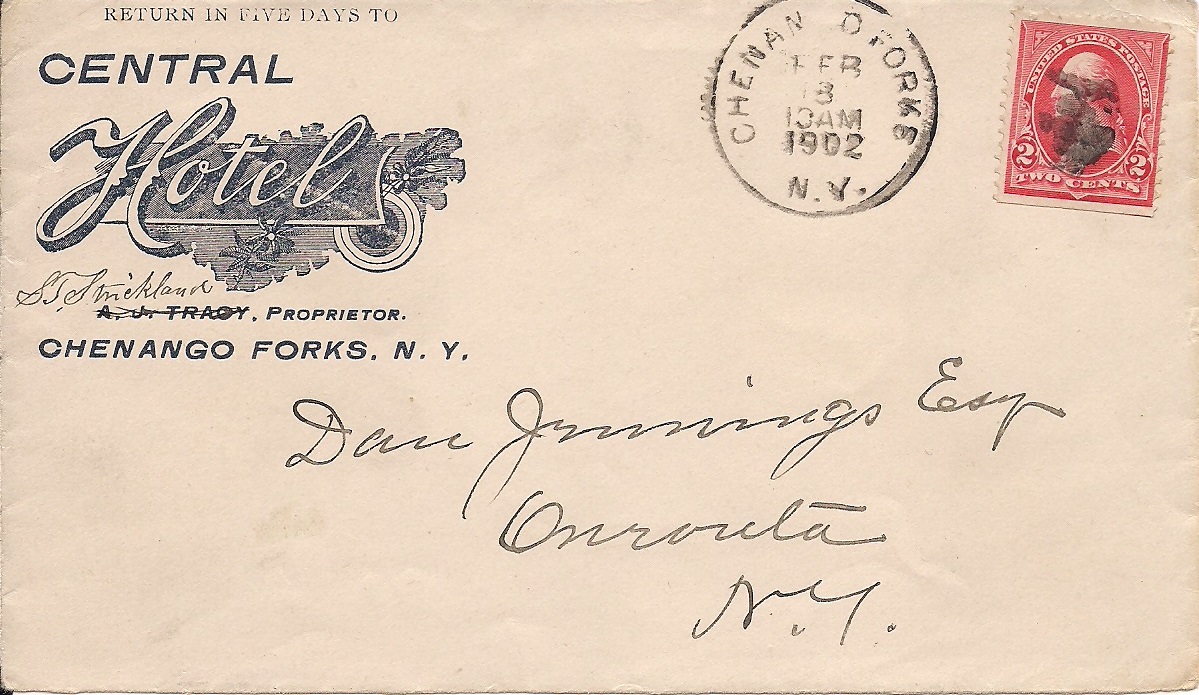 CHENANGO FORKS/FEB/18/10AM/1902/N.Y. Black 28mm CDS; cork killer on
                                     2 cent carmine 1st Bureau issue.

Chenango Forks- 1908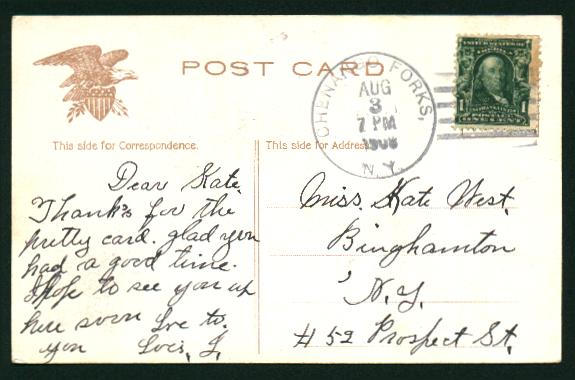 CHENANGO FORKS/AUG/3/7 PM/1908/N.Y. Black 31mm CDS; 5 Bar Killer
                                    Picture postcard with 1 cent green (#300)

Chenango Forks- 1941 - Registry Dispatch Receipt Card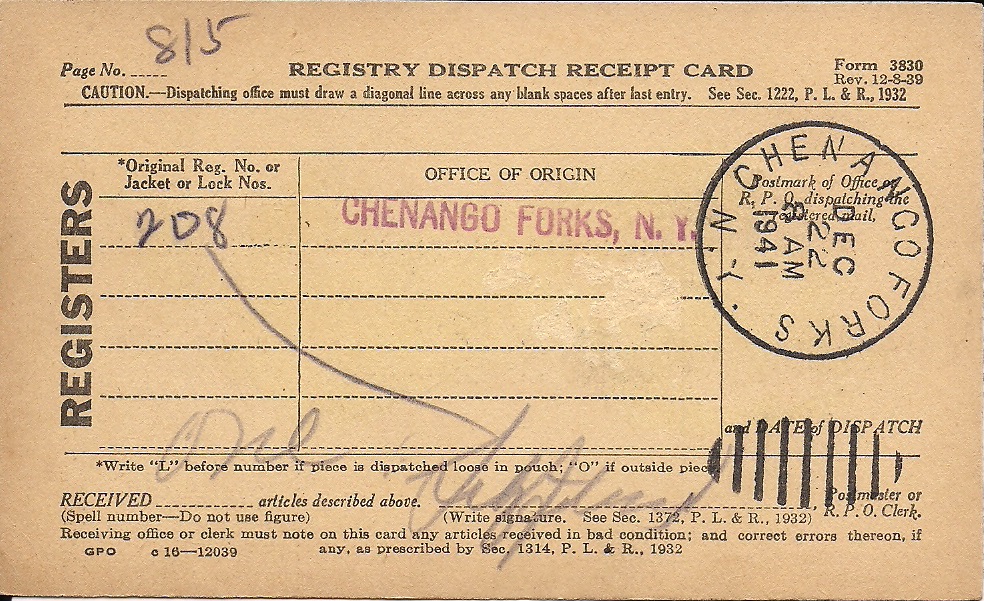 CHENANGO FORKS/DEC/22/8 AM/1941/N.Y. Black 30mm CDS; steel duplex. Magenta
                                     "CHENANGO FORKS, N.Y." under Office of Origin.

Chenango Forks- 1954 - Registered Letter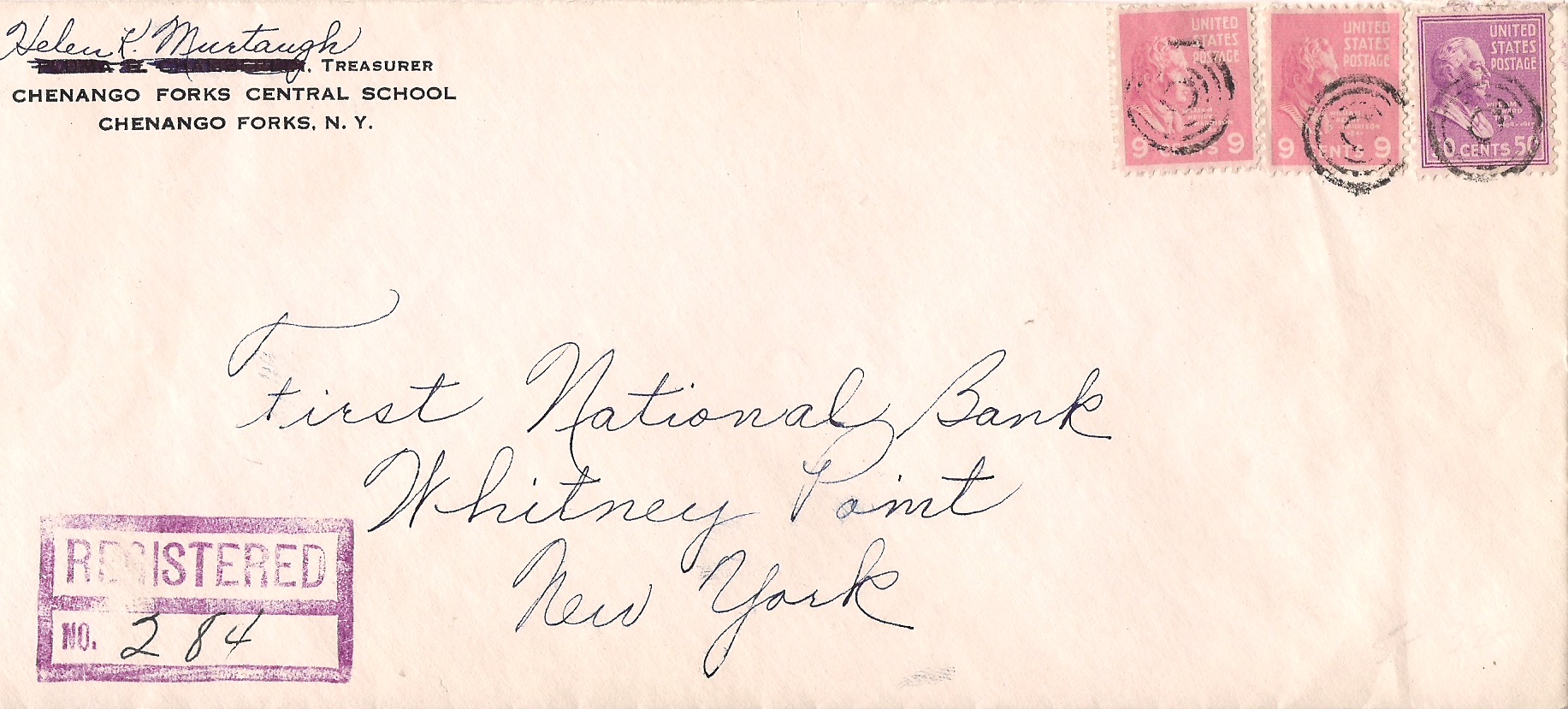 CHENANGO FORKS/MAR/27/1954/N.Y. Magenta double circle date stamp on rear of envelope. Magenta
                                "REGISTERED/NO." and manuscript "284" in magenta 47x25mm rectangle.
                                Black target cancels on two 9 cent Harrison and 50 cent Taft Prexie
                                paying the 3 cent first class postage plus the 65 cent registry fee
                                for $25.01 - $50.00 indemnity. To First National Bank, Whitney Point.


Home,   Next Page,   Previous Page,   Index Page,