Broome County, New York Postal History
Brookvale: December, 1895 - June 30, 1902
The Brookvale Post Office was established in Broome County in December, 1895.  Prior to that, it had
been Brook Vale.  Mrs. Rosa Springer continued her tenure and served as the first postmaster of Brookvale.  
On June 30, 1902 the Brookvale Post Office was closed, and service began to be provided from the 
Binghamton Post Office once again. 

Brookvale - 1897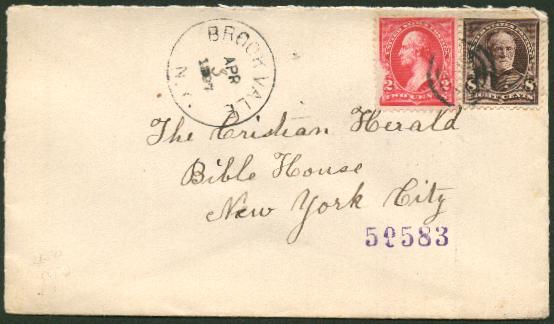 BROOKVALE/APR/3/1897/N.Y. Black 27mm CDS with manuscript day, target cancel killer on 
                          2 cent carmine and 8 cent violet brown (#272) paying registration fee. 


Home,   Next Page,   Previous Page,   Index Page,