Broome County, New York Postal History
Blatchley: May 5, 1893 - June 15, 1904
The Blatchley Post Office was established in Broome County on May 5, 1893.  The first postmaster of
Blatchley was Achsa I. Blatchley.  The Blatchley Post Office ceased operation on June 15, 1904, when
service began to be provided by the Great Bend, Pennsylvania Post Office.

Blatchley - 1897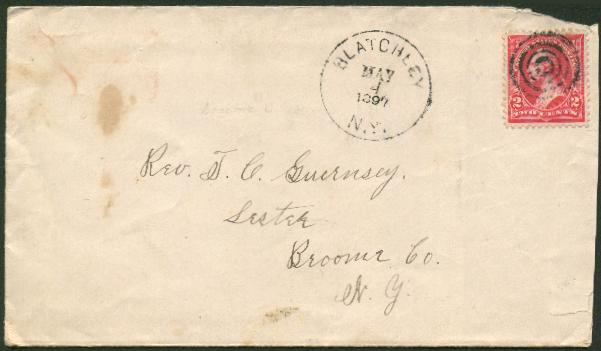 BLATCHLEY/MAY/4/1897/N.Y. Black 28mm CDS, target killer on 2 cent carmine Bureau issue.
                          Backstamps indicate cover arrived at Great Bend, PA May 4 @ 1PM, then 
                          Windsor, NY May 5 @ 8AM, before finally arriving in Lester, NY.   


Home,   Next Page,   Previous Page,   Index Page,