Broome County, New York Postal History
Millburn (Milburn): February 7, 1859 - October 5, 1864
The Millburn Post Office was established on February 7, 1859.  Prior to that it was Corbettsville.
The first postmaster of Millburn was James H. Waltermire.  On October 5, 1864, the Millburn Post
Office once again became Corbettsville.

Millburn - 1863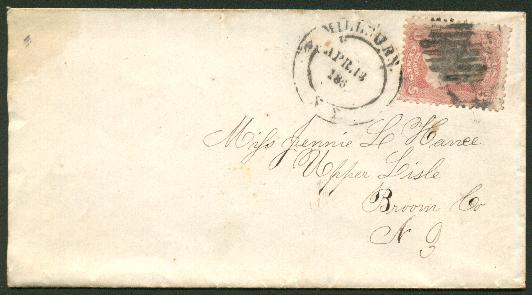 MILLBURN/APR 13/1863/N.Y. Black 28mm serifed double ring CDS, circular grid killer on
                          3 cent dull red (#65).  Patriotic envelope. Reverse has colorless
                          embossed "UNION" in shield with red and blue flap borders. 


 .


Home,   Next Page,   Previous Page,   Index Page,